Gatherings
---
Events of general interest to Guillemot Kayaks customers
Chesapeake Light Craft is once again hosting an open house at their shop in Annapolis, MD and a large gathering of boatbuilders at a park beach in Kent, MD. This is a great event to meet other builders, get tips on boatbuilding, show off your boat, see and try other boats, and generally have fun hanging out with like minded people.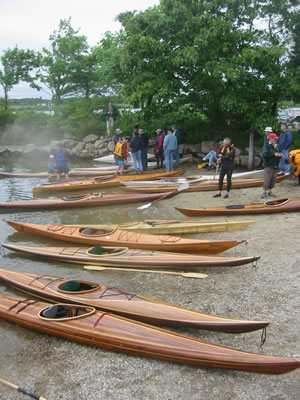 Once again we will gather to see what everyone has accomplished over the winter. Every year for over 10 years we have been meeting at the beach at Bluff Point State Park in Groton, CT to talk about making kayaks. If you are interested in making your own kayak, just like to look at kayaks or have built your own you are welcome. Bring a boat if you have one, but it doesn't have to be home made.
Every year since 1998 Chesapeake Light Craft has been hosting a gathering of small boat builders. On Friday they have an open house at their shop with demonstrations and a cookout. On Saturday it is on a beach on Chesapeake Bay.
I'll be bringing some boats down and giving some sort of demonstration this year. Come visit, bring a boat if you've got one, or just test boats you may want to build.
Location: Chesapeake Light Craft, Annapolis, MD
Kayak Builders Gathering
This annual gathering of kayak builders and people interested in home-built kayaks has been going for over 10 years. People drive from all around the North East to see what people have made over the winter. This is a good chance to see finished boats in person. The other boat builders are often kind enough to allow you to sit in and paddle the boats they built, giving you a chance to test before you build.
Location: Bluff Point State Park, Groton, CT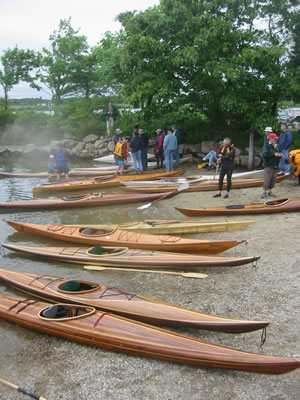 For over ten years now kayak builders have gathered at Bluff Point State Park in Groton, CT to share what we did last winter. This is an informal gathering of people interested in homemade kayaks and other small boats. If you have a boat or just like homemade boats, this is fun chance to visit with others with similar interests. Meet at the Beach Home Page
The premier open water race for human powered boats, the Blackburn Challenge is not always fun to do, but it is fun to have done. The event starts in the Annisquam River and goes clockwise around Cape Anne, and finishes about 20 miles later under the greasy pole in Gloucester, MA. Some 250 boats typically participate in this event from traditional Banks Dories to 6-man Outrigger Canoes as you would expect to see in Hawaii.
If you need a dead line to finish your boat, there isn't a better reason to get it done than to show it to other builders at the Meet at the Beach. For years kayak builders have been meeting at Bluff Point State Park in Groton, CT to see each other's work and exchange ideas and techniques.

The New England Rough Water Symposium was created by Tom Bergh and other local paddlers to gather paddlers together to exchange skills and ideas. It is a great event for intermediate paddlers to improve their boating skills and experienced kayakers to pick up new ideas.
I will be helping provide a little local knowledge again this year and providing a little bit of coaching.