---
"Pity about the staple holes! Should have gone stapleless." is the comment I got a few months back when I posted the above picture. "Just as easy!" said the commenter. He missed the point
I guess Time.com does not keep their advertising pages up for very long. The video for Lincoln ran for about a month on the Time website, but then they removed the add. The director put up a copy on his Vimeo page and it is currently available there.
Attendence was good at this year's Meet at the Beach at Bluff Point State Park in Groton, CT. I didn't have time to count how many people attended, but I did take some pictures plus the above bits of video. Below are some of the photos.
I love kayaking, but there is something about a canoe. We had family down for the Memorial Day weekend. After everyone left and the dishes were cleaned, we decided to put the canoe in the water and go for a paddle. A kayak always seems to take a little bit more forethought, if only to get the right clothes on.
An efficient, sliding seat, open water rowing boat
Come to Annapolis, see the Chesapeake Light Craft shop, watch boatbuilding demonstrations and then try out boats. Okoumefest is held over two days, Friday is in Annapolis at the CLC shop, where there will be a tour of the facility (you can see there CNC machine cut kits), I will do a demonstration of some sort (usually how you shouldn't fiberglass outside in the sun), and others will demonstrate other techniques to build boats in less than favorable conditions. After the demonstrations there will be food. CLC hosts a BBQ.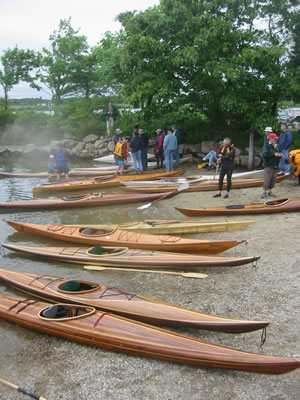 For more years than I can remember wooden kayak enthusiasts have met at the beach at Bluff Point State Park in Groton, Connecticut. We will be gathering again this year. Come see what builders have made over the winter. Test paddle kayaks that you are interested in building. Talk to other people who like wooden kayaks.