---
Come to Annapolis, see the Chesapeake Light Craft shop, watch boatbuilding demonstrations and then try out boats. Okoumefest is held over two days, Friday is in Annapolis at the CLC shop, where there will be a tour of the facility (you can see there CNC machine cut kits), I will do a demonstration of some sort (usually how you shouldn't fiberglass outside in the sun), and others will demonstrate other techniques to build boats in less than favorable conditions. After the demonstrations there will be food. CLC hosts a BBQ.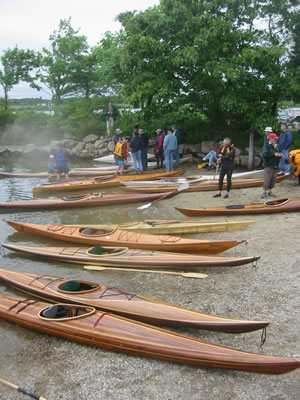 For more years than I can remember wooden kayak enthusiasts have met at the beach at Bluff Point State Park in Groton, Connecticut. We will be gathering again this year. Come see what builders have made over the winter. Test paddle kayaks that you are interested in building. Talk to other people who like wooden kayaks.
I'm working on a new strip-built sliding seat rowing boat. I'm really excited about the design and am impatient to get it on the water.
Summer in Maine is not always sunny, but even when it isn't it is a great place to commune with boats. The Maine Boats Homes and Harbors Show in Rockland always has a diverse assortment of beatiful boats as well as everything from beach glass jewelry to diesel engines (something for everyone).
I've been exhibiting at the WoodenBoat Show for almost 20 years. It is always a fun show and a great chance to see a lot of beautiful wooden boats and the rest of Mystic Seaport Museum.
Come watch a boat being built
Canoecopia in Madison, Wisconsin is the biggest paddle sport shows in the country and it is the perfect antidote to the middle-of-the-winter blues.