---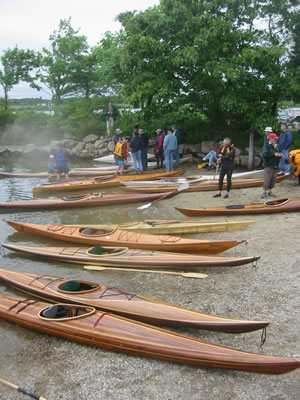 Once again we will gather to see what everyone has accomplished over the winter. Every year for over 10 years we have been meeting at the beach at Bluff Point State Park in Groton, CT to talk about making kayaks. If you are interested in making your own kayak, just like to look at kayaks or have built your own you are welcome. Bring a boat if you have one, but it doesn't have to be home made.
A easy-to-build small kayak for kids
I'm using 4 ounce glass on the inside.
Sometime back in the mid to early 1990's I read an article in WoodenBoat Magazine about building an icebox. I just did a little research and found the article. It was "Building a Proper Icebox" by Jim Brown in WoodenBoat Issue #99. You can read the article below. This is where I first came across the idea that a thick mixture of powder and epoxy has a name. What Jim said was:
For me cleaning up the inside of the boat is one of the least satisfying aspects of building the kayak.
Note:
As of February 2012, the Kindle files should be updated so the issues discussed below no longer apply. If you continue to experience readability issues with you Kindle additions of The Strip-Built Sea Kayak or Building Strip-Planked Boats, please try reloading the books from Amazon. If you see any other problems, please let me know.