---
The last strip to close the bottom always takes time. The narrow remaining gap must be matched quite precisely for a tight fit.
With book matched strips you can not throw out a damaged strip because doing so would disrupt the pattern of the grain. Instead you will need to repair the damage. If the strip is just broken you can glue it back together. In this case the edge of the strip was torn up and ragged.
It will happen that as you are building a strip-planked boat, one of your seams will pop open. If you are using staples, you may be able to add glue, squeeze it closed and shoot another staple into it, but if you are trying to avoid staples, you might need to seek other solutions.
In part one of stripping the bottom I did not need to worry about the length of the strip much, I just left them over long then trimmed them back when they were in place.
A gathering of the finest fiberglass and wooden custom boat builders on the East Coast. Also exhibiting numerous manufacturers of boating equipment. Sailboats, powerboats, canoes, kayaks, and rowing boats with the builders there to discuss and sell their work.
The Annual WoodenBoat Show is a tremendous celebration of boats new and old, large and small. Throughout the Seaport, the energy was palpable from discovering a needed tool, learning a new skill, to pure, jaw-dropping admiration for the incredible craftsmanship found at every turn. Summer begins at the WoodenBoat Show!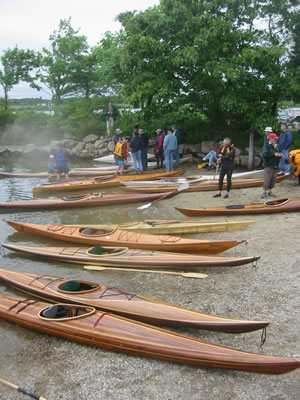 For over ten years now kayak builders have gathered at Bluff Point State Park in Groton, CT to share what we did last winter. This is an informal gathering of people interested in homemade kayaks and other small boats. If you have a boat or just like homemade boats, this is fun chance to visit with others with similar interests. Meet at the Beach Home Page
"Ganymede" is a brand new design by Nick Schade: An easy-to-handle recreational kayak, fun to paddle and fast and easy to build.
Another 7 Night Herons have been built at the Connecticut Valley School of Woodworking. This time-lapse video shows the progress over 5.5 days, starting with a raw pile of CNC-cut parts from Chesapeake Light Craft, and completing with an assembled 18' long kayak.