---
The Annual WoodenBoat Show is a tremendous celebration of boats new and old, large and small. Throughout the Seaport, the energy was palpable from discovering a needed tool, learning a new skill, to pure, jaw-dropping admiration for the incredible craftsmanship found at every turn. Summer begins at the WoodenBoat Show!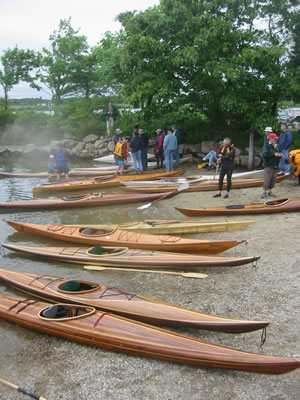 For over ten years now kayak builders have gathered at Bluff Point State Park in Groton, CT to share what we did last winter. This is an informal gathering of people interested in homemade kayaks and other small boats. If you have a boat or just like homemade boats, this is fun chance to visit with others with similar interests. Meet at the Beach Home Page
"Ganymede" is a brand new design by Nick Schade: An easy-to-handle recreational kayak, fun to paddle and fast and easy to build.
In the previous step I stripped up one side, letting the ends of the strips overhang the center or keel line. In this video I am trimming off those ends so the keel line is straight and true.
In this video I am stripping up the bottom. I am doing a "straight" stripping pattern where I strip up one side completely without stripping the other side. I then come back and trim the strips to follow the centerline.
In this video I am continuing with the stripping on the side of the kayak. Because of the fairly plumb bow and stern of the microBootlegger design, these strips run straight of the ends. This makes the stripping fairly straight-forward as there is no shaping involved beyond the rolling bevel.
Here I show using an aluminum strongback and spacers to quickly and accurately set up forms. This same technique would work with a plywood box beam. The aluminum is more rigid, but the plywood will work as well.
My newer book "Building Strip Planked Boats" includes a description of the spacer method of setting up forms on an internal strongback.