---
Smoothing the interior of a strip built boat is always a challenge. A random orbital sander usually doesn't fit the curved surface well and risks digging horseshoe shaped divots in the wood. What I find works well for me is a really sharp paint scraper shaped to match the surface, and hand sanding with very rough sandpaper.
There are a variety of ways to install a recess around a cockpit. Some people like to install the recess first and then fit the strips to the existing shape. I have found it is more efficient and the results are better if I strip the deck first and then cut a hole to accept the recess.
This nylon "boonie" hat will keep the sun off your ears and face while paddling. Khaki green with a adjustment strap to snug up on all sized heads it also includes an adjustable chin strap to keep it from flying away in a stiff breeze. "Guillemot Kayaks" is embroidered on the front in case you forget how to spell the source of your boat design.
The wide brim is effective at keeping sun out of your eyes and saltwater off your glasses. The light nylon won't take up much room in your drybag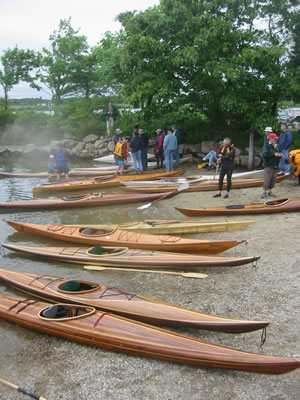 For more years than I care to remember wooden kayak enthusiasts have met at the beach at Bluff Point State Park in Groton, Connecticut. We will be gathering again this year. Come see what builders have made over the winter. Test paddle kayaks that you are interested in building. Talk to other people who like wooden kayaks.