---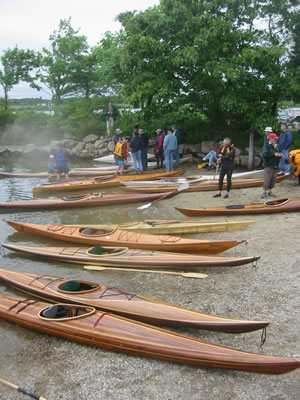 For more years than I care to remember wooden kayak enthusiasts have met at the beach at Bluff Point State Park in Groton, Connecticut. We will be gathering again this year. Come see what builders have made over the winter. Test paddle kayaks that you are interested in building. Talk to other people who like wooden kayaks.
How to Set Up a Router Table to cut Cove and Bead Cedar Strips
Cut the Bead First
I like to cut the bead first because it will not get dinged up with any rough handling. The cove is more delicate due to the narrow edges. By cutting the bead first there will be fewer opportunities for damage between milling the cove and assembling the strip on your boat.
While the weather is warm enough, I try to get out for a morning work out in some boat. Here I am in my Mystery racing kayak. This was about a week ago. Now the river is starting to ice over.
A 2 minute preview
I've been putting my new design extensive sea trials as I work on finalizing the builder's instruction manual. I'm really pleased with how the boat is performing, it has very nice glide, decent initial stability and great secondary stability, handles waves gracefully and seems quite fast. I ended up adding a small skeg (as I expected) that allows the boat to track very nicely while maintaining good maneuverability.

I get a lot of calls from people with questions about going into business bulding boats. It can be hard to be realistic about the business while your head is stuck in the boat. Here are some of the questions and some long winded responses.