You are hereBuilding / Boat Building Techniques
Boat Building Techniques
---
Information about boat building techniques
For those of you who just can't have too many sources of hand made boat stuff coming into your smart phones and have a softspot in your heart for lo fidelity images that look like they were taken with a Polaroid and stuck to the fridge for 35 years; I've started posting the occasional photo on Instagram. The subject matter will tend to be related to boat building, woodworking, using wooden boats etc. We'll see what develops.
Be the First to Build the New Designs
The puzzle joints make assembling the plywood panels very straight forward. There is almost no way to mess up which parts go together because the puzzles will only fit together in one way. The CNC cut cut makes for very precise joints which usually fit together quite easily.
A seat is a pretty basic need in a kayak. A good seat is the key to comfortably sitting in a kayak for hours at a time. The seat is the primary contact between the paddler and the boat and as such it is the primary tool for controling the kayak.

The End Pour
A common question is "what is the end pour good for?" For those who don't know what it is, it originated in making fiberglass kayaks. The boat is stood on end, leaned up against the wall or a try and epoxy is poured into the end. This epoxy fills up the end with a solid chunk of material. This serves a couple purposes.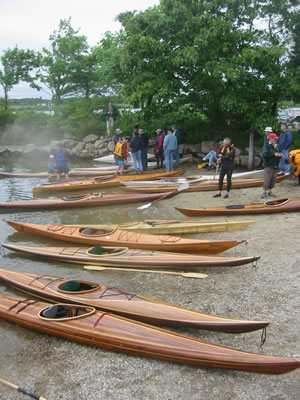 Once again we will gather to see what everyone has accomplished over the winter. Every year for over 10 years we have been meeting at the beach at Bluff Point State Park in Groton, CT to talk about making kayaks. If you are interested in making your own kayak, just like to look at kayaks or have built your own you are welcome. Bring a boat if you have one, but it doesn't have to be home made.